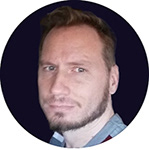 I am an American artist originally from Lakeland, Florida, now living in the Lisbon, Portugal area with my wife and 2 kids. Life is an adventure for sure, as I was taken out of art college at Ringling School of Art and Design after a near fatal car accident in 2000, my first year of attendance. A broken neck in 3 places, broken back among other things. Having never finished art college, I have continued to fight to achieve my dreams despite the uphill battle. Thankfully I am mostly healed from the accident, although my back occasionally likes to remind me of that past!

I now often illustrate childrens books together with my wife, Miriam, as well as having experience in published 2D indie games and animation background work for companies such as WayForward Technologies and Tic Toc Games.

 Life may not always go the way you planned, but never stop striving for your dreams! 
-Sean Balsano

**Currently open for freelance and/or permanent positions in children's book, illustration, animation, 2D video game art and concept development!**

Contact me at: seanbalsanoillustration@gmail.com